Mutina Archaeological Park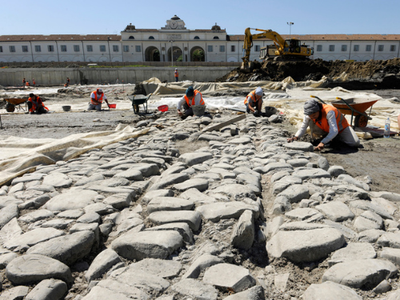 The Mutina archaeological park (ex-Novi Ark)  is located within the vast green space of the historical center of Modena, in front of Foro Boario, a building of remarkable architectural value, now the seat of UNIMORE.
Following the archaeological discoveries that took place during the construction of the underground car park, the archaeological park was created by dismantling and reassembling the structures of the Roman city found at a depth of 5 meters, buried by floods.
The park is so far the only urban space where the remains of Mutina are visible in their original context. Almost all the structures on display are in the exact position in which they were found.
The open-air archaeological park reestablishes a cross section of Mutina. The long cobblestone street, which was one of the main roads connecting Rome with the northern provinces of the Empire, is lined with funerary stele engraved with the names and life stories of the citizens of the Roman colony. Also visible along the sides are the foundations of rural buildings, basins and manufacturing plants.
The landscape that the archaeological remains are embedded in reflects and highlights the memory of this site: plant species that were widespread in Roman times, documented through archaeo-botanical analyses, have been planted in the area surrounding the ancient structures.
On the underground level, where the car park is located, there are two exhibit spaces containing urns recovered from large pits that were used as dumping grounds.
The Novi Ark archaeological park was inaugurated in 2012 and represents a compromise between the need to build a car park and to safeguard the archaeological remains. It is the result of a joint effort between the City of Modena, Regional Direction for Cultural and Landscape Heritage of Emilia-Romagna and Superintendence. Its construction involved dismantling the Roman-era structures at their original level of five meters deep, and then reassembling them at surface level.
Enhancement project and archaeological park: Giovanni Cerfogli, Silvia Pellegrini, Ilaria Pulini (City of Modena) and Donato Labate (Superintendence)
Landscape design: Rita Bega and Andrea Di Paolo
Park size: 50,000 square meters
Hanging green space and Novi Ark: 30,000 square meters
Contact person: Silvia Pellegrini (Civic Museum)
The Museum offers educational tours for schools on the Roman era. The tour covers both the park and the museum.